@rss2tg_bot
A notification RSS/Atom1 bot for Telegram2.
Quick and simple.
And free.
These are live, real-time munin3 charts. Hover your cursor or touch to learn more: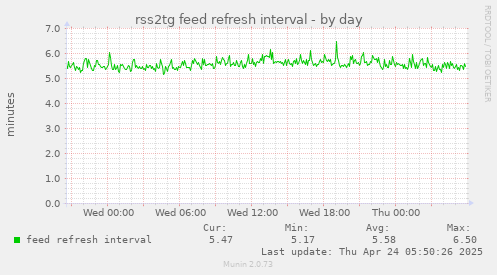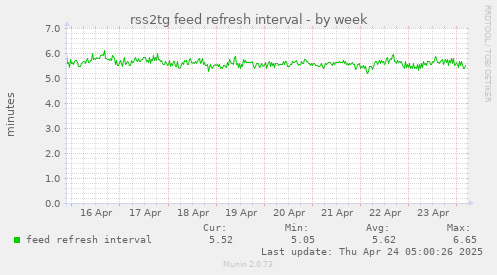 How often the bot requests a feed for new posts.
There is no fixed value: the bot tries its best with the amount of computer resources it has.
The chart doesn't count users who enabled "slow mode" via /settings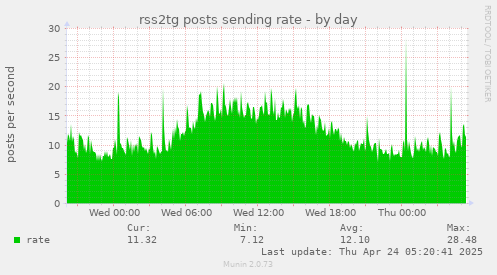 How much posts the bot sends to all users.
This is not a precise number of telegram messages. A long post could be split into multiple messages. Also multiple posts could be aggregated into one big message depending on /settings.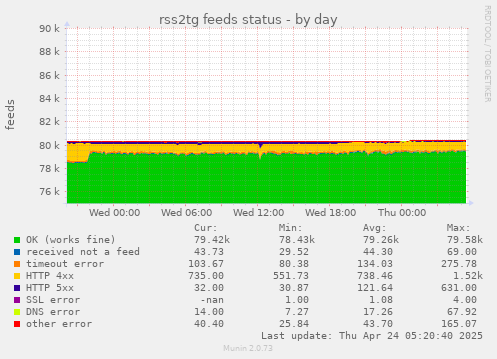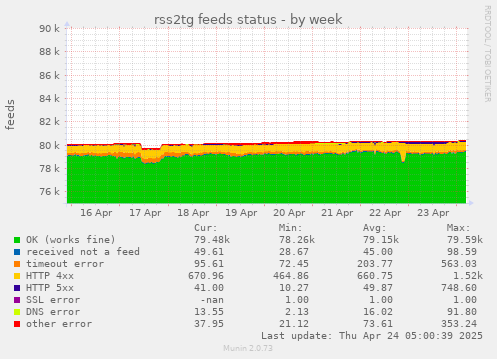 Shows all kinds of troubles the bot is having during the work.
The most recurring one is websites throttling HTTP requests. This bot sends a lot of them, due to insane limits (500 feeds per user, or even 5000) and fast update rate (~5 minutes).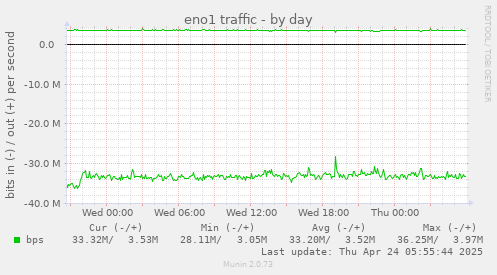 How much of network bandwidth the bot consumes.
The current server (provided by AlpineDC) is limited to 100Mbps.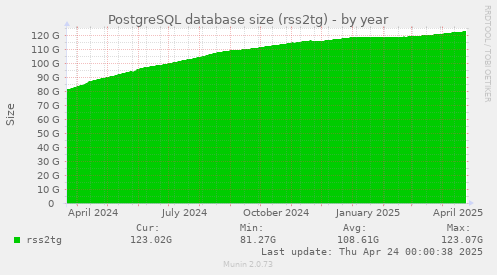 The bot stores posts (and everything else) into PostgreSQL database.
PostgreSQL is quite horrible for the type of load this bot has (lots of updates), but the bottleneck is typically a programmer's skill, not a type of database.
Big steps are not some kind of DELETE routine, these are just VACUUM FULL.
The limit for the current server (provided by AlpineDC) is about 200GB.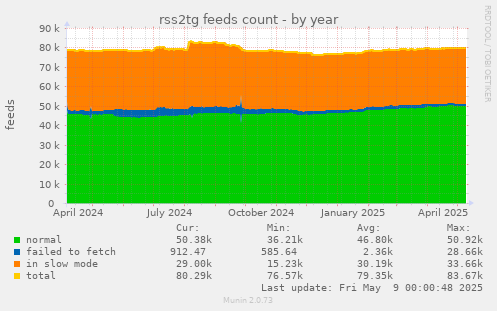 Count of unique RSS/Atom feeds (not subscriptions) the bot has to process.
The "normal" group are the feeds supposed to be processed fast.
The other two have lower priority. These are feeds the bot failed to update for some reason, and feeds having only users who switched into "slow mode" via /settings.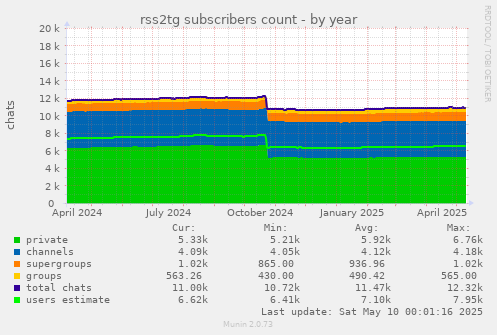 Count of active subscribers having at least one subscription, grouped by chat type.
These are tricky numbers. Lots of channels and groups are actually private, being read by one person, or even nobody.
The bot is hosted on a server generously provided by AlpineDC for free.
(and before that, I had to ask for money on my patreon)
See also
Footnotes